It's Thursday Think Tank Time again :)
So I would like to show you what I have been thinking and planning:
I used the
template from the Stitchery Valentine Pillow Project
from
Amy @ A Home Made
..to add a special touch.. Thank you very much, Amy! :)
The fabrics in the background will be used as a focus fabric on the other side of the tote and the grey dots on pink will be the lining.
I really like Veronica @ SewVery 's suggestion to applique on a pillow. :) Thanks Veronica for a great idea.
So I am going to use make another paper-pieced heart with this Reading Pillow pattern I'm making for my boyfriend.
I will get to see him in March when I go to the conference in the U.S. And I will enter this pillow in the Typography Challenge that Rikka @ Ricochet and Away and Keren @ Sew La Vie are co-hosting.
My boyfriend likes to read before he goes to bed..so a reading pillow will be a good gift in my opinion...the thing is ...he always implies that he is very manly so I'm not sure what he will think of a reading pillow with a cute heart on it. Any suggestion to make it look more manly? *LOL* Thank you in advance for your thoughts.
They also host the Keep 2012 Drama Free..and I have hopped on the band wagon! :)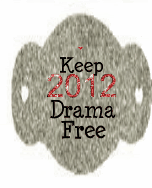 Well...that's all for me for now..time to get ready to go to work!
Thank you very much for visiting my blog and enjoy your weekend..TGIF!!