First of all, I would like to thank Jenna @ Sew Happy Geek for featuring my vintage rose frame purse.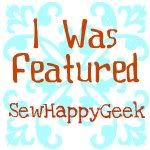 Jenna's Manic Monday Link Party was the first link party I joined so I was very excited when Jenna told me that I was featured. There are many inspiring sewing projects linked up every monday. I love Jenna's sewing and Blog/HTML tutorials as well.
I did not write any post for almost a week because I was trying to catch up with my Savvy Seasons Swap project. This is what I have done so far, a Christmas pillow cover:
I still have to add the white borders for the pillow top. My swap partner likes red/white. What do you think of this? Any suggestion is welcome and very appreciated.
I am also working on other things for the swap and will post my progress here soon.
Thank you very much for visiting my blog. I hope to see you again soon.
This post is linked up with:
"Manic Monday Link Party" @ Sew Happy Geek
"Creative Me Monday" @ The Southern Institute
"Craftastic Monday" @ Sew Can Do
"Craft and Tell" @ Cherished Bliss

"Fabric Tuesday" @ Quilt Story

"Sew Cute Tuesday" @ Creative Itch
"Handmade Tuesdays" @ Ladybug Blessings

"Too Cute Tuesday" @ Funky Polkadot Giraffe
"Wednesday Link Party" @ Tea Rose Home

"W.I.P. Wednesday" @ Freshly Pieced